The Chapman Performance Collection, Featuring SCA Performance Lifted Trucks
SCA Performance provides high-quality vehicle upgrades to take your Ford truck to the next level. Custom suspension lifts, aftermarket lighting, off-road tires, high-performance engine calibrations, and more turn your stock vehicle into a head-turning showstopper unlike anything else in Delaware, Ohio.
Get ready to add a new dimension of excitement to your next adventure with the SCA Performance line and Chapman-Exclusive builds of lifted Ford trucks from Bob Chapman Ford.
Custom Order Your Lifted Truck
Browse Our Current Chapman Performance Collection of Trucks
New SCA Performance trucks and our custom truck packages are sold exclusively through partnering dealerships, and Bob Chapman Ford knows how to help you design your passion. That means you can purchase your SCA or Chapman-Exclusive lifted truck with financing (if you choose) and it includes the SCA 3-year/36,000 mile warranty! No more buying the truck first then dishing out thousands more to add the upgrades!
Personal Service from Joe Chapman
Joseph Chapman is the Dealer Principle and General Manager – a 4th Generation Chapman of Chapman Ford! SCA Performance is all about the Passion Driven Life, and Joe will help you design your passion.
If you're a member of the Armed Forces, let Joe know and ask about our military discounts. There's even an Armed Forces Edition of the Black Widow SCA Performance Package.
Get Started With Your New Truck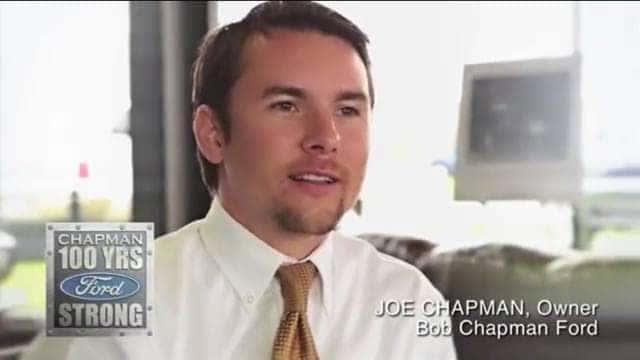 Find Your SCA Performance Ford Lifted Truck at Bob Chapman Ford
Schedule a test drive of the Ford truck of your choice and see what a difference SCA performance upgrades can make. Contact Bob Chapman Ford at 937-642-0015, or visit our showroom at 1255 Columbus Ave. in Marysville.
SCA Ford Armed Forces Black Widow Edition
You can choose which options you want on your SCA Performance Ford Truck. Download the order guide of your choice to help you make your decisions when you talk with Joe Chapman at Bob Chapman Ford. Please note that F-350 Dually order guides are not available at this time.
SCA Performance vehicles have their own warranties. Please download and review the warranty on SCA Performance vehicles.
Ford Armed Forces Black Widow Edition Gallery
Ford F-350 Dually Gallery